CalSPAC Violence Prevention Webinar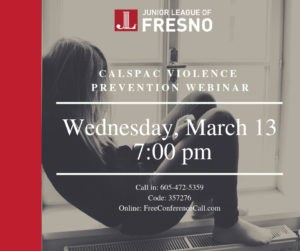 The webinar will focus on mental health issues and how they are, or are not, being addressed in schools as related to preventing violence and bullying on campus. 
Caroline Stephen is a current senior in high school in Los Angeles. For the past few years she has been telling her story of how she fought through many mental health challenges, like anxiety and depression, which many teens face today. Her advocacy work began after two traumatic events occurred within the same week at her school and she saw that many of her peers were struggling in silence. She led a three year effort to bring mental health issues out of the shadows, culminating in her school hiring a dedicated on-campus psychologist. She shared her own story for the mental health organization Bring Change 2 Mind at various events. 
Call in: 605-472-5359
Code: 357276
Online: FreeConferenceCall.com