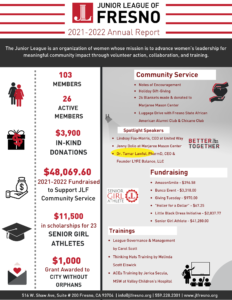 Message from our President's
As another Junior League year comes to a close, we can't help but reflect on how powerful and resilient our members continue to be, especially these last two years during the global pandemic. Our membership continued to persevere through all the unknowns and uncertainties that this year brought.

From transitioning to a hybrid model of in-person and virtual meetings and events, to fundraising over $48,000. We recruited seven amazing women, raised over $3,000 in our first back in-person fundraiser, and raised over $35,000 for our flagship program, Senior Girl Athlete which provided 23 young female athletes $500 scholarships. A huge thank you to our sponsors, long-standing donors, and community partners – your support makes a huge impact on what we can do.

Lastly, we created a social hour after each General Member Meeting where members were able to connect and to help foster the growth of deeper bonds and everlasting friendships.

A year that focused on our internal community, to help set the foundation of what's to come. We thank you members for your positivity, willingness to embrace change, and the hunger to want to do more. We couldn't be prouder of our small, but mighty league!

As we look ahead to the next league year, we are thrilled for what is to come. We are excited to invest back into our community needs through community development, collaboration, and relationship building. We look forward to working together to expand connections, deepen member engagement, and make a larger impact on our focus area, youth aging out of foster care.

We are humbled to have had the opportunity to serve as President of the Junior League of Fresno. Thank you for all of your ongoing support this year and years to come!

Empowered women, empower women.
It is our pleasure to serve,
Savanna Ellison                                                                 Kylie Nesgis
President 2021-2022                                                       President 2022-2023