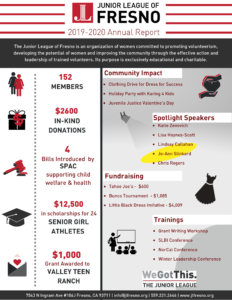 Message from our Leadership
The theme for the 2019-2020 Junior League year was "We Got This." Every member understood their purpose and stayed the course for a productive and rewarding year! Members focused on the community through done in a day projects. We went from doing an annual fundraiser to a few mini-fundraisers to allow more time for leadership training at membership meetings. We were fortunate to have past presidents of Junior League share their experiences and skills they learned in Junior League. Members learned about the the importance of volunteering and how petition corporations for funds. Our members understood the meaning of "We Got This" and provided Christmas gifts for over 25 youth in foster care. We went above and beyond to purchase every item that was on the youth's wish list.  A big thank you to all the Active and Sustaining members!
This year we were able to give out $12,000 in scholarships to 24 deserving young ladies representing 24 different schools in the Fresno County area. These young ladies are chosen by the school's Athletic Director's for the accomplishment in sports and their academics. The recipient of our $1,000 Community Grant was Valley Teen Ranch. All these accomplishments would not have been possible without the support of our members, community partners, and the generous support of our donors and sponsors. Whether you are a member, community partner, donor or beneficiary of the League, your contributions are making a difference- in the lives of the women and Foster Youth in Fresno County. 
With Gratitude, 
Nicole Settle                                      Della J. Caver, Ed.D.
President 2019- 2020                     President 2020-2021