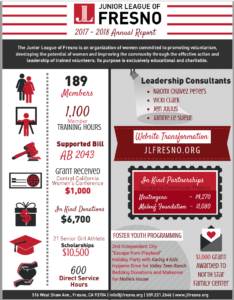 Message from our Leadership
During the 2017-2018 League year, Junior League of Fresno continued to focus our community efforts on youth preparing to "age out" of foster care in Fresno. In our second year of work in this area, we continued to build relationships with community partners and create new programming to engage and support these teens. Our
annual Community Service Funds Grant was awarded to the North Star Family Resource Center to support their mental health services for AB 12 youth.
Another focus of our work this year has been building the capacity of our organization by enhancing our civic leadership development program. We provided over 1,100 hours of leadership training to our members. By "developing the potential of women," we prepare our members to effect change in our community.
Our heartfelt thanks to our members, community partners, donors, and sponsors for their generous support of our mission. The success of the year is thanks to your generous gifts of service, skill, and funds – we are thankful for your commitment to our organization.
With Gratitude, 
Melinda Scott                               Valerie Parkey
President 2017-2018                   President 2018-2019