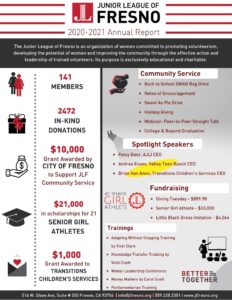 Message from our President's
This year's Junior League's theme, "Better Together" turned out to be more than just a 'catch phrase'. We embodied those words as we navigated through this historic year of a global pandemic. Despite finding ourselves in uncharted territory, we rose above the fray and calamity of this past year by continuing to provide the high level of service we have provided for the past 62 years. We accomplished this through our commitment, compassion, and cooperation. Together, we accomplished several goals even as we pivoted. It was a remarkable year in many ways. Just a few of our noteworthy highlights include:
Providing clothes, food, and toiletries for the volunteer firefighters and displaced residents of the Creek Fire.

Providing 115 backpacks full of school supplies and Junior League Better Together masks.

We put smiles on the faces of young boys at Valley Teen Ranch for Christmas.

Provided three different group homes with pies for Thanksgiving.

We continued impacting the lives of our graduating seniors in the Foster Care system by giving them a College Survival kit with a laptop, laptop desk holder, twin bedding set, luggage and a snack box to get them started with college.
As we close yet another chapter and a league year of Junior League of Fresno, please take a moment to reflect on everything we accomplished in a year that provided more challenges than we could have ever imagined. Our membership persevered and stepped-up whenever we were called upon. We banded together to support our community when the wildfires raged in our backyard, lifted up our community partners and gave words of support and much needed items to the Foster Youth in our community. We pivoted from a time when we thrived with in-person recruitment and socials and got creative with Zoom and virtual events.
Now, as we look ahead to the next league year. We are filled with so many emotions. We see a glimmer of light on a new horizon and are hopeful this coming year will bring us more strength and togetherness. We are extremely excited and humbled to be given the opportunity to serve as President of the Junior League of Fresno. Thank you for all that you have done and continue to do!
With Gratitude, 
Della J. Caver, Ed.D.                           Savanna Ellison
President 2020-2021                          President 2021-2022